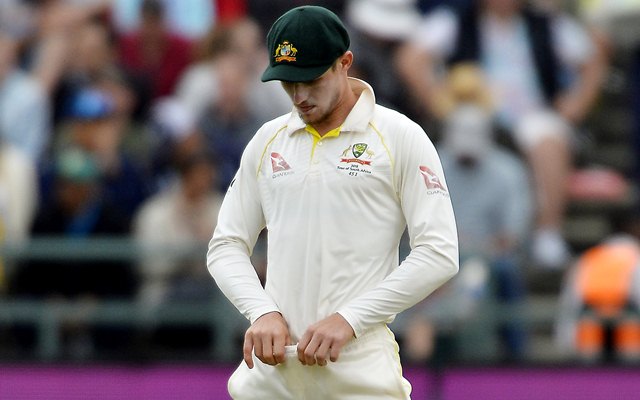 Cameron Bancroft. (Photo by Ashley Vlotman/Gallo Images/Getty Images)
Cameron Bancroft, the Australian batsman, was in the thick of things when the ball-tampering scandal surfaced back in 2018. The Test match against South Africa at the Newlands in Cape Town remains one of the darkest chapters in Aussie cricket. Along with Bancroft, then skipper Steve Smith and David Warner were handed suspensions from Cricket Australia.
Going down memory lane, the 28-year-old Bancroft admitted that he made a mistake. Moreover, he said that the bowlers in the Australian team were aware of proceedings on the field. During the game, Bancroft was seen using sandpaper and then stuffing it inside his pants. After the saga, it was Tim Paine, who took over from Smith as the Australian captain.
Cameron Bancroft opens up
"Yeah, look, all I wanted to do was to be responsible and accountable for my own actions and part. Yeah, obviously what I did benefits bowlers and the awareness around that, probably, is self-explanatory, " Bancroft told The Guardian.
"I guess one thing I learnt through the journey and being responsible is that's where the buck stops [with Bancroft himself]. Had I had better awareness I would have made a much better decision," he added.
After the infamous scandal, Bancroft made his Test comeback against England in the 2019 Ashes. In two matches, he only managed 44 runs after which he lost his place from the team. He has kept playing for the Perth Scorchers in the Big Bash League.
Bancroft is currently busy playing for Durham in the County Championship in England. About his comeback to Test cricket, he said that he's not cluttering his mind regarding the same.
"That's a goal and a door I haven't shut for myself. But it's also something I'm not mentally stressing about and obsessing about either. If I'm in the right place, scoring runs, doing what I enjoy doing, I'm sure there'll be another opportunity for me," Bancroft mentioned.
In 10 Test matches, Bancroft has scored 446 runs at an average of 26.23 with a top score of an unbeaten 82 against England at The Gabba in Brisbane. He has also played a solitary T20I against India back in 2016.