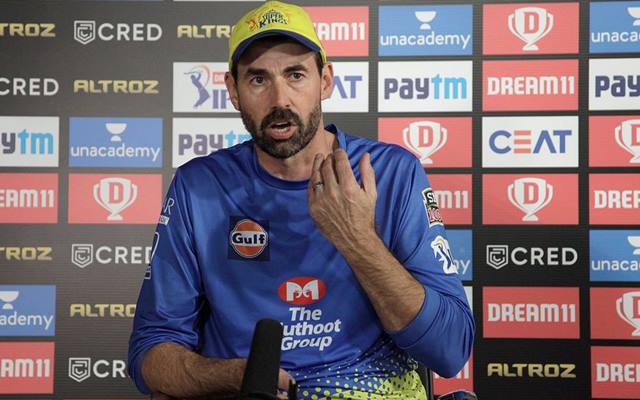 Stephen Fleming. (Photo Source: IPL/BCCI)
Stephen Fleming, the Chennai Super Kings head coach, backed the opener Ruturaj Gaikwad, who has not been able to get into his rhythm in the IPL 2021 so far. The right-hander was dismissed for 5 runs off 8 balls against Delhi Capitals, followed by a sedate 5 off 16 versus Punjab Kings in his team's second encounter.
Though CSK won comfortably against KL Rahul's side, the questions on Gaikwad's inclusion have been raised considering Robin Uthappa and Cheteshwar Pujara are warming the bench. However, Stephen Fleming reckons the 24-year-old will continue to open and that the management has given its full backing to him.
Gaikwad made his IPL debut in 2020, where he recorded 3 single-digit scores before coming back with a hat-trick of half-centuries towards the end of the season.
"I am happy with the balance we have got in the team. Ruturaj (Gaikwad) is a fine player. He got a good ball in the first match and very difficult conditions today (Friday). It wasn't a 220-run wicket today. It was much different. Ruturaj was a player we showed faith in last year, and his talent came through. Our philosophy when we pick players and put them in the team is to back them. This combination (Ruturaj-Faf du Plessis) is simply that," Stephen Fleming said at a virtual press conference on Friday.
The performance was very encouraging: Stephen Fleming
Stephen Fleming appreciated his team for the victory after they lost convincingly against the Delhi Capitals in their first game of the season. Terming CSK's 6-wicket win over PBKS as "encouraging", he also confirmed that pacer Lungi Ngidi is released from quarantine, and is going to be in action soon.
"When you put in a performance like this, it is hard to argue. We have Lungi Ngidi, who has now become available. But he is only out in the next couple of days. We will see how he comes out of quarantine. The performance today from the XI was very encouraging." he said.
"Now it's a case of really assessing the conditions. Everyone thought that there are going to be high-scoring slogathons. But now there's a little bit more out. So the team you pick and the tactics that you use (become important). We are really happy about that. We like the opportunity when there is a bit in the wicket. Really encouraged with the way the XI played," he added.