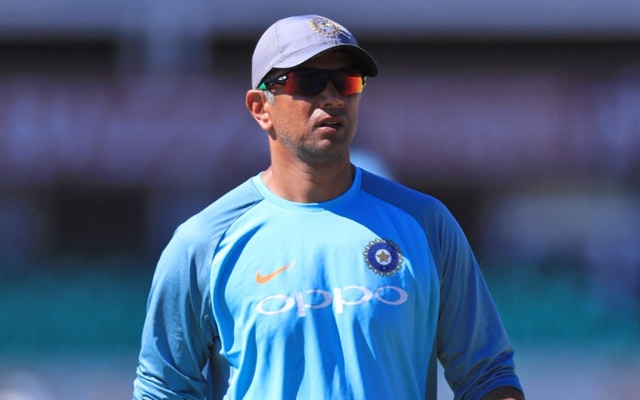 India A coach Rahul Dravid (Photo by Mike Egerton/PA Images via Getty Images)
Former legendary cricketer Rahul Dravid is widely lauded for his efforts for his great work in the grassroots levels for the Indian team. The former elegant right-hand batter is also the director of NCA and has shaped a lot of young careers by instilling self-belief and a winning attitude within them.
Dravid has also handed over the role of head coach for India's tour of Sri Lanka starting on July 13. He will be in charge of a fairly young squad with Shikhar Dhawan being named as the skipper. Many countries are envious of the fact that how India have managed to pull this incredible feat by creating a strong B side and sending their players with the first-choice players not available due to the team's tour of the United Kingdom.
Inzamam-Ul-Haq was mighty impressed by this fact of India playing two tours simultaneously and credited Dravid for his brilliant work at the Under-19 level. The head coach for the Lankan tour opened up about his experience with the A tours and what advice he gave to the players which made them perform well consistently for long periods of time.
"I tell them upfront, if you come on an A tour with me, you will not leave here without playing a game. I've had that personal experience myself as a kid: going on an A tour and not getting an opportunity to play is terrible," Dravid ESPNcricinfo's 'The Cricket Monthly'.
Rahul Dravid sheds light on the lessons he taught to youngsters at the Under-19 level
The legendary cricketer also expressed his point on how a player might feel saddened by not getting a look in even though he has performed well in the domestic circuit, Dravid also made them understand the value of not getting complacent as there is no guarantee in the playing XI for the A tours.
"You've done well, you scored 700-800 runs, you go, and you don't get a chance to show what you're good at. And then you're back to square one from the selectors' point of view because the next season you have to score those 800 runs again.
"It is not easy to do that, so there is no guarantee you'll get a chance again. So you tell people upfront: this is the best 15 and we are playing them. This is not about the supposed best XI. At U-19, we make five-six changes between games if we can," he said.